Plex is one of the most popular media center and media server apps available. Raspberry Pi fans have been putting the client-side Plex app on Raspberry Pis for years. Until recently, though, it wasn't possible to set up the server-side app on the Raspberry Pi. That has changed, though, and we're here to show you how to set up a Raspberry Pi Plex server.
How to set up a Raspberry Pi Plex server
What you'll need
As always with these projects, you'll need a Raspberry Pi (we recommend the Raspberry Pi 3) and a microSD card (at least 8 GB). You'll also want a keyboard, mouse, and monitor, of course. And this project is much more worthwhile if you also have a USB drive or external hard drive to store lots of shows, movies, and music on. Your Raspberry Pi Plex server will make it all available to all of your client devices, so the more you have, the better!
Step 1: Install Raspbian
We're going to run our Plex server on the Raspbian operating system. You can install it using NOOBS, which is probably the easiest option. Just click the link for our how-to.
Step 2: Update Raspbian
Let's make sure we have the latest and greatest version of Raspbian. Open the command line (it's the black and blue box on the taskbar) and type:
sudo apt-get update
sudo apt-get upgrade
Step 3: Check that you have the HTTPS transport package installed
We're going to use the HTTPS transport package in this process. It should be automatically installed on Raspbian, but that isn't true for some older versions. Stay in the command line and type:
sudo apt-get install apt-transport-https
This will install the latest version. If you already have it, you'll just get a message kicked back telling you so. Either way, you're now ready for the next step.
Step 4: Add the dev2day repository to your package source list
We need the dev2day repository because it contains Plex. First, we need a crypt O key for the dev2day website.
wget -O - https://dev2day.de/pms/dev2day-pms.gpg.key | sudo apt-key add -
Next, we'll add dev2day's repository to the package source list.
echo "deb https://dev2day.de/pms/ jessie main" | sudo tee /etc/apt/sources.list.d/pms.list
Finally, update the package list.
sudo apt-get update
Step 5: Download Plex
Yep, we're finally at this stage!
sudo apt-get install -t jessie plexmediaserver
You'll have to hit "y" when prompted to approve the download.
Step 6: Permissions chores
Let's set Plex to run under the Pi user.
sudo nano /etc/default/plexmediaserver.prev
Your terminal window will fill with a big text document. Look for the line that says PLEX_MEDIA_SERVER_USER=plex. Delete "plex" and type in "pi," so that the line reads PLEX_MEDIA_SERVER_USER=pi.
Now hit CTRL+X to exit. Type Y for "yes" to save your changes and hit Enter to stick with the same old file name. Then, in the terminal, type:
sudo service plexmediaserver restart
Step 7: IP address chores
You'll want your Raspberry Pi Plex server to have a static IP address, so that you only have to connect once on each client device. First, get your IP:
hostname -I
This will kick back your IP address. Copy it or write it down. Let's open your command line txt file.
sudo nano /boot/cmdline.txt
At the bottom of the command line text file, type ip= followed by your IP address. Save and exit the file (CTRL+X, then Y, then Enter).
Step 8: Restart your Pi
Let's restart. You can do this right from the command line with sudo reboot.
Step 9: Add files to your server
Now we've showed you how to set up a Raspberry Pi Plex server – but we haven't showed you how to put anything on it. Let's start populating that server.
First, make sure you've got your files attached to your Pi somehow – like through a USB external hard drive, for instance.
Then, open your browser and type your IP address followed by :32400/web/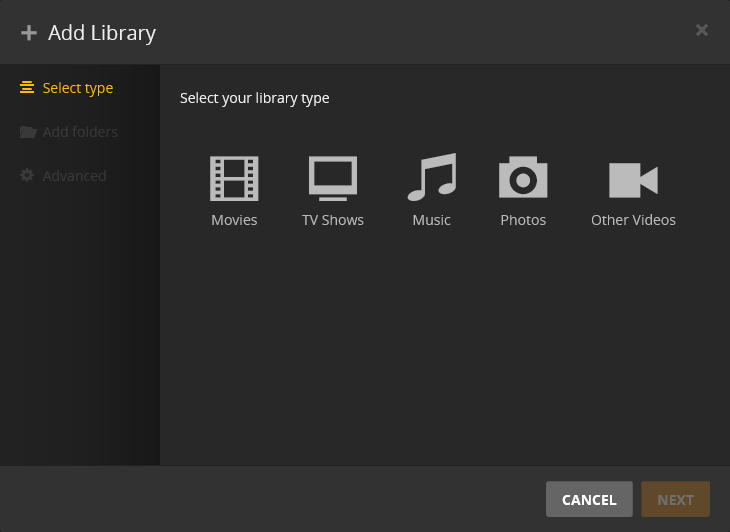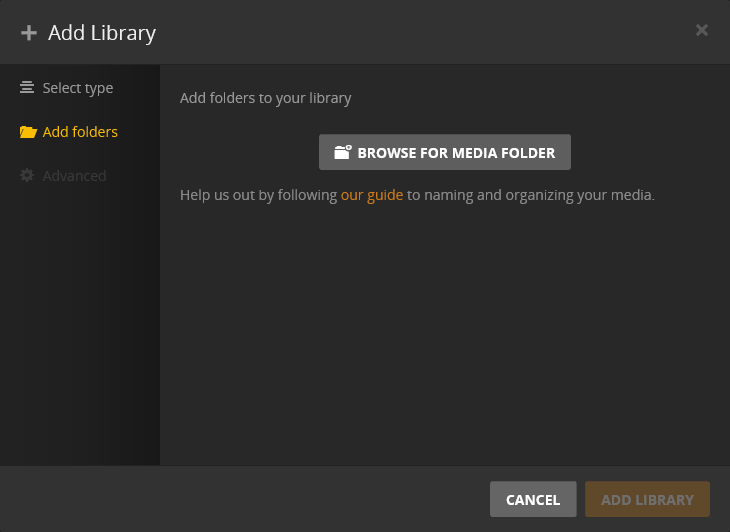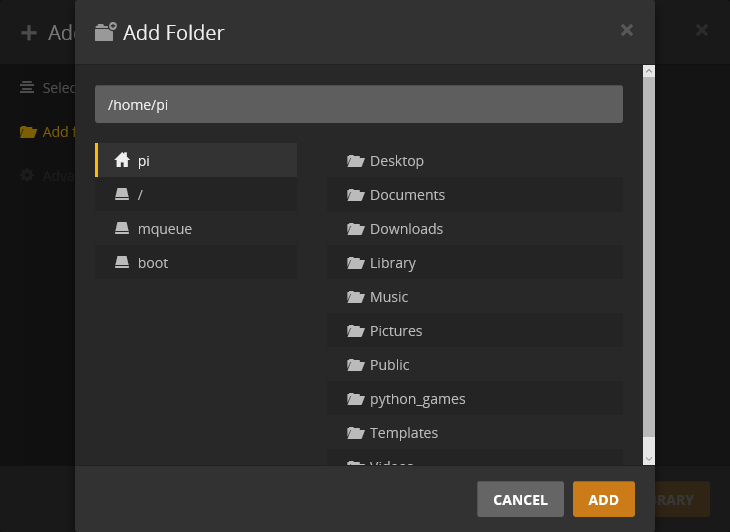 This will bring you to the Plex web app. Sign in (or create an account). Plex will briefly show you how things work and will then give you the option to "add library." Go ahead: select the right type of media, navigate to your files, and select the folders you want to add.
Step 10: Connect to your server from client devices
Plex makes this part easy, too. Open the Plex app from a client device on the same network, and Plex will detect your server for you. If you haven't used the web app to claim and populate your server, you will be given the chance to claim it after your app spots it.